STEM at Fullerton College
STEM Success Learning Community
The STEM Success Learning Community (STEM SLC) is a program that assists first-time students as they navigate the rigorous curriculum associated with STEM major/career pathways. Our STEM SLC gives new students the opportunity to be part of a community of learners  within a supportive environment. Don't miss out on this exciting opportunity to get extra support as you start your college career (see flyer below)!  Email STEM@fullcoll.edu for questions.
Benefits
Membership in a learning community that brings together students who share common educational goals and interests.
Direct access to Chemistry and Mathematics courses specific to your major
Embedded tutoring in each STEM SLC section
STEM specific counseling and follow up services
Access to internship/undergraduate research opportunities.
Peer Undergraduate Mentorship Program partnership with CSU Fullerton for selected chemistry sections- P.U.M.P. Partnership Information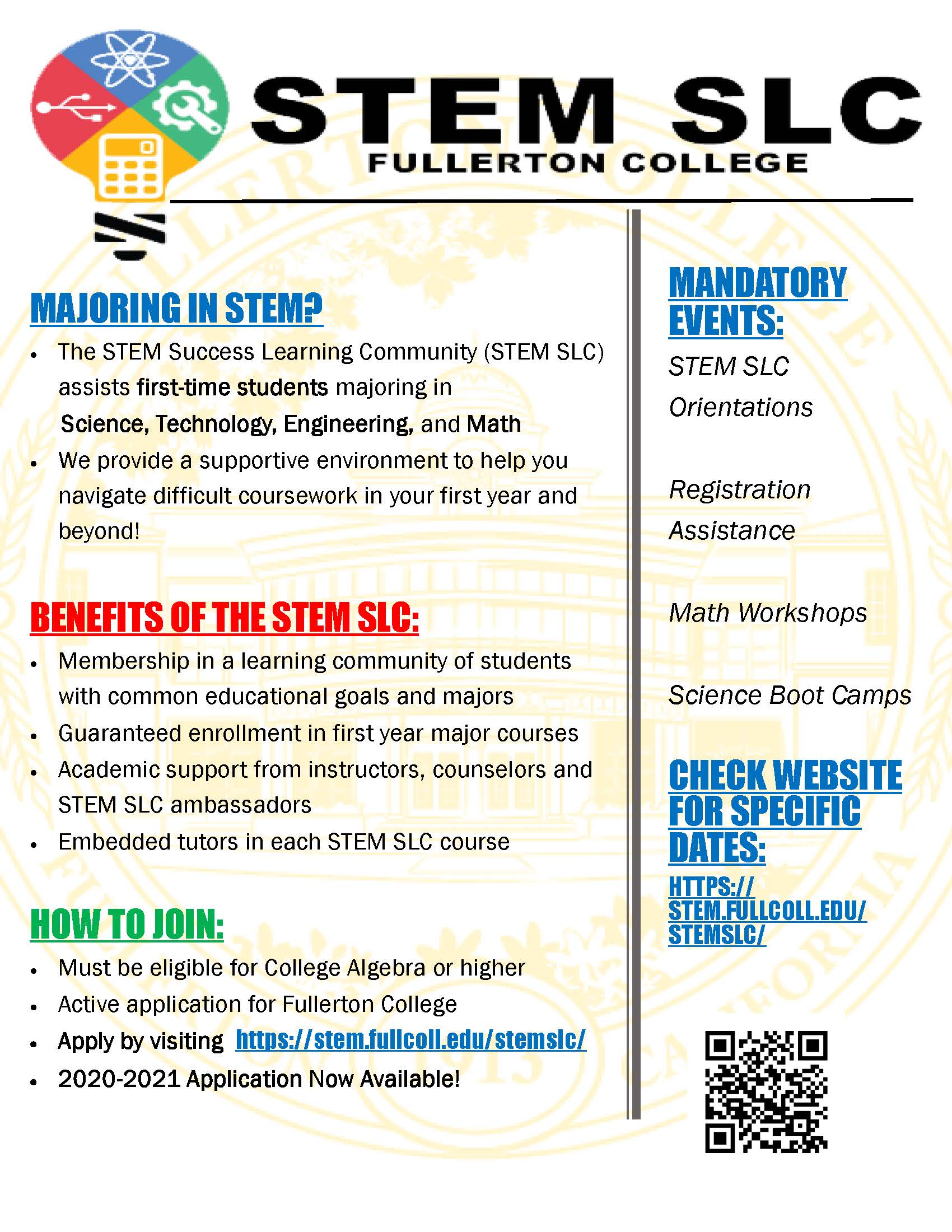 Requirements
First time freshman Summer/Fall 2020 or returning student with limited coursework completed
Ready for College Level Math- see Math Course Flowchart for STEM majors: http://math.fullcoll.edu/flowchart.html
Intend to major in a STEM specific area for which you will need Chemistry and higher level Mathematics.
Attend summer/winter workshops offered to help better prepare you for upcoming courses
Eligible to enroll in STEM SLC specific sections (Math, COUN, CHEM- see example schedule below)
Keep 3.0 GPA while in our program
Follow up counseling appointments each semester with Academic Progress Report
2020-2021 Application Now Closed!
Fall 2020
Math 141- College Algebra (4 units)
Math 031- Support for College Algebra (2 units)
COUN 151- Career and College Success (3 units)
GE Course like ENGL 100 or CHEM 107 if appropriate (3-5 units)
Overall= 12-15 units
Spring 2021
Math 142- Trigonometry (4 units)
CHEM 107- Intro to CHEM (5 units) or other STEM Major prep
COUN 148- Human Potential (1 unit)
GE Course (3 units)
GE Course if appropriate (3 units)
Overall Units= 13-16 units
SCHEDULE OPTION II
If you start in Calculus- Math 151
Fall 2020
Math 151- Calculus I (4 units)
CHEM 107/111A- Prep for General Chemistry or Gen CHEM I (5 units)
COUN 151- Career and College Success (3 units)
GE Course like ENGL 100 if appropriate (3-4 units)
Overall= 15-16 units
Spring 2021
Math 152- Calculus II (4 units)
CHEM 111A or 111B- Gen CHEM I or II or other STEM Major prep (5 units)
COUN 148- Human Potential (1 unit)
GE Course (3 units)
GE Course if appropriate (3 units)
Overall Units= 13-16 units